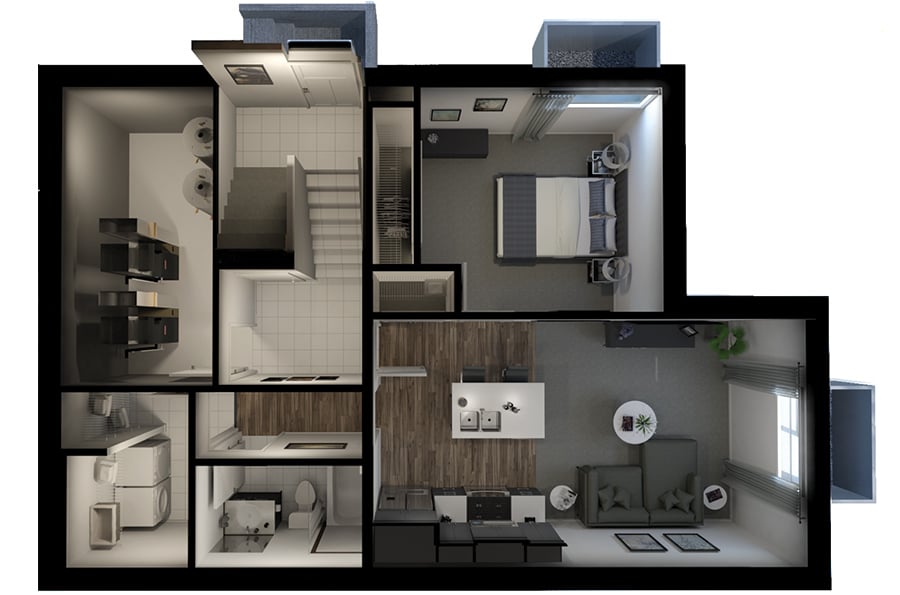 It is no secret that Calgary is growing at a steady rate and with this growth comes the need to make better use of the city's existing footprint. While condos and townhomes are becoming more prominent in the current real estate market, secondary suites are also creating a name for themselves. Calgary is one of few cities across Canada that permits secondary suites, creating a unique opportunity for homeowners and renters. On May 12, 2018, Calgary City Council approved amendments to the Land Use Bylaw that allows secondary suites as discretionary use within certain districts. This now means that applicants can apply for a development permit and all fees will be waived until December 31, 2021.
Now what exactly is a secondary suite and what is required for it to be deemed legal? A secondary suite can be classified as a separate living space created within a property originally designed to accommodate a single family. It is a private, self contained unit that most commonly takes the form of a basement suite, however, can also include garden suites, above-garage laneway units and in-law suites. Before choosing to create a secondary suite in your humble abode, it is important to consider that there are certain requirements that must be in place before a secondary suite can be deemed legal.
Requirements
Separate entrance/exit leading directly outside
Full kitchen, including an oven and hood fan
Full bathroom dedicated to the suite
Each bedroom must have at least one egress window
Smoke alarm and carbon monoxide detector that is connected to main residence.
Second forced air furnace and HRV dedicated to the suite
Smoke tight separation between suite and main residence (including ceiling, walls and doors)
Designated parking stall
Shared amenities yard space
Recommendations
Increase hot water tank size
Provide separate laundry where possible. If separate laundry cannot be provided, then you must be able to provide shared laundry.
Storage space
The city of Calgary has made it easier than ever to check if your property qualifies for a secondary suite. Simply click here, then fill in your address and it will determine the requirements for that specific area. Although there are many rules and regulations that must be followed, there are countless benefits to be considered when creating a secondary suite - not only for the homeowner but for renters and the City of Calgary alike.
Benefits of Secondary Suites
To Homeowners:

Boost income and help pay down mortgage
Increase property value
Downsize your home without moving
Allow for relatives to live nearby

To Renters:

Increase options available for people to live and afford
Access to a yard
Live in an established neighbourhood

To the City:

Maintain population with modest growth
Maximize existing infrastructure
Improve safe rental stock
Better use of land and city services
While there are several reasons to pursue a secondary suite, it is essential that homeowners familiarize themselves with the changing rules and regulations. Feel free to ask one of our Area Sales Managers or reach out to your municipal government directly for information.
Have a great weekend!
Cedarglen Marketing
Sources:
http://www.calgary.ca/PDA/pd/Pages/Home-building-and-renovations/Secondary-Suites.aspx?redirect=/suites
http://www.calgary.ca/PDA/pd/Pages/Home-building-and-renovations/Applying-For-A-Secondary-Suite.aspx
http://www.calgary.ca/PDA/pd/Pages/Calgary-Land-Use-bylaw-1P2007/Calgary-Land-Use-Bylaw-1P2007.aspx