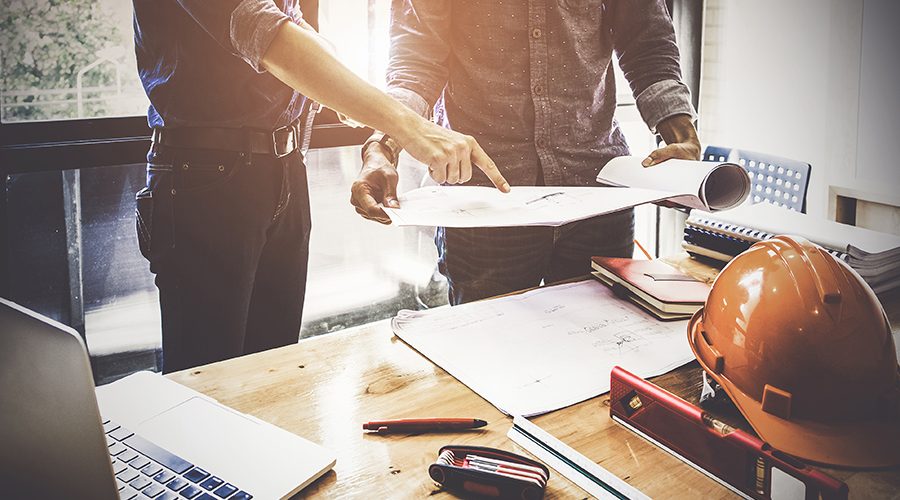 Building a new home is an exciting and busy time in one's life and our team here at Cedarglen Homes want to ensure the whole experience is as enjoyable as possible. There are several steps that go into the building process and it is important that homebuyers feel educated and prepared every step of the way. Follow along as we explore the 15 key steps that go into building your dream home with Cedarglen Homes.
Step #1: Lot Hold
Once you have decided to build with Cedarglen Homes, you will be asked to select the specific lot you want to build on in your community of choice. To officially claim this lot, you will be required to place a deposit of $1000.
Step #2: Purchase Agreement
You will then sit down with the Area Sales Manager in that community and write your purchase agreement, select an elevation and make any redline changes to your floorplan. You will also select the exterior colors of your home so that they can be submitted to the community developer for approval.
Step #3: Removal of Conditions / Financing
A certified cheque or bank draft for the deposit, along with a copy of your confirmed mortgage approval must be provided to your Area Sales Manager.
Step #4: Customer Plan Presentation
You will meet again with your Area Sales Manager to review your preliminary plans and ensure that everything from your redline markup is detailed.
At this point in time, a Customer Relations Representative (CRR) from our office will contact you to help guide you through the entire administration process and answer any questions you may have. They will also book your interior selection appointment with the Cedarglen Homes Design Consultants, and any other supplier appointments required.
Step #5: Appliance Selection
You will then start your interior selections by meeting with the appliance supplier to pick out all the appliances you would like in your home.
Step #6: Design Centre Cabinets and Preview
This will be a 4-hour meeting you are required to attend at our Design Centre to make your interior selections. First you will sit down with your Designer and create the layout for cabinetry in your home. Next, she will take you to the design centre to make all interior selections including railing, finishing, plumbing, countertops, tile and flooring. By the end of this appointment, you will have a general idea of what the interior of your home will look like. If you would like to visit any of our other suppliers, you can book appointments with them at this time.
Step #7: Design Centre Final
Approximately two weeks after your Preview appointment, you will be invited back to the Cedarglen Design Centre to meet with your Design Consultant and CRR. In this 4-hour appointment, you will finalize all your interior selections.
*Note that steps 2-7 must be completed within 40 days.
Step #8: Construction Start Meeting
At this meeting, your CRR will walk you through an updated set of plans which will reflect any further changes and interior selections. Your CRR will provide you with our site access and safety policy information.
Step #9: Stake Date
On this exciting day, your property will officially be staked out and the excavation process will begin soon after (weather permitting). Your site supervisor will email you to introduce himself at this time.
Step #10: Electrical Orientation
After the framing on your house has been completed, your Site Supervisor will contact you to set up a meeting at your new home. Together, you will walk through your home to discuss electrical locations and any possible changes you would like to make. At this time, you will book an appointment with our lighting supplier to select your lighting.
*Once your home goes to insulation, your possession date will be confirmed.
Step #11: Confirmed Possession Dates
Your CRR will contact you to book a home orientation appointment and a possession orientation.
Step #12: Home Orientation
One week prior to the possession date of your new home, you will meet with your Site Supervisor at your home to complete your Home Orientation. This meeting is conducted to provide you with the information on how to operate and maintain all systems in your new home and to note any deficiencies.
*At this point in time, your home insurance and mortgage documents should be finalized.
Step #13: Meet with a Lawyer
Legal fees and disbursements are included when our preferred lawyer is used in the purchase of your new home. They will contact you directly to set up a meeting roughly two weeks prior to possession.
Step #14: Possession Day
On the official possession day, your Site Supervisor and CRR will meet you at your new home for the Possession Orientation. They will review any items that may be outstanding from your Home Orientation and then officially hand over the keys!
Step #15: Warranty
We offer a Cedarglen Homes Warranty package during the first year in your home. If a homeowner has any questions or concerns, the Customer Response Team Representatives are available to answer any questions or direct you to the appropriate person. There are two inspections during the warranty, a 60-day and a 1-year inspection, to ensure that everything is working properly in your home. You can reach out to our Customer Response Team at 403.255.2000 or responseteam@cedarglenhomes.com
With these 15 steps, we strive to provide an excellent experience for our homebuyers and homeowners every step of the way.
Have a great weekend,
Cedarglen Marketing