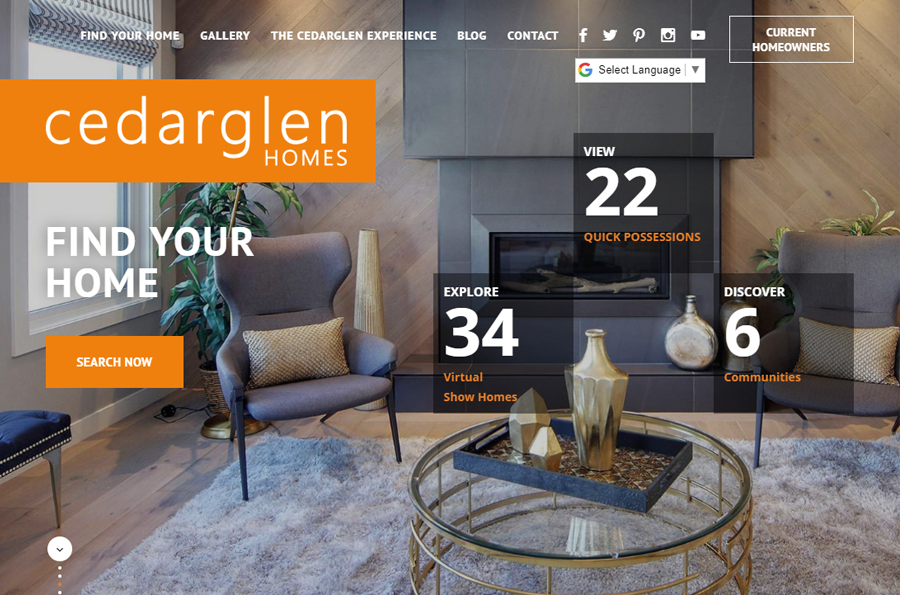 Cedarglen Homes is extremely eager to kick off the new year as it will be full of exciting new opportunities. As a company that focuses on customer satisfaction, it is essential to ensure that every step of a person's relationship with us is outstanding from start to finish. When someone first hears about a company, they will often turn to their website to learn more about the organization, their values and the products and services they offer. After months of preparation and planning we are thrilled to announce the official launch of our new website!
Our biggest priority was to bring our incredible assets to the forefront and create a seamless user experience throughout the whole site. The home page features a direct link to all our virtual tours making it easy to visualize yourself in our homes. You can also direct link to see available quick possessions if you are looking for a home to move into right away, as well as the different communities we are building in.
The new website places a larger emphasis on current homeowners and provides them with all the tools they need after moving into their new home in one easy to find spot. From direct links to Your HomeOnTrack, to Cedarglen created home maintenance videos and information on our loyalty program, there is a multitude of information readily available.
Finally, we are pleased to offer a Google Translate option on our website for those where English may not be their first language to ensure they can navigate the website seamlessly. We can't wait to share this exciting update with you and look forward to hearing your feedback!