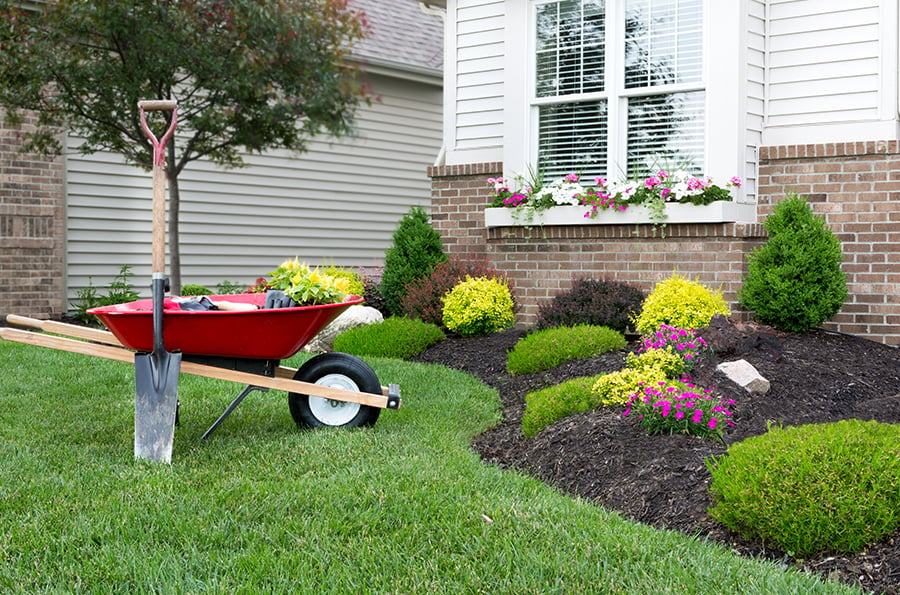 Summer is the perfect time of year to get your hands dirty and update the landscaping at your new home. This is an exciting opportunity to create the outdoor oasis you've been fantasizing about and finally bring your Pinterest dreams to life. Nevertheless, it is important to remember that this can be a daunting task for most people and it requires a great deal of preparation and hard work. Rather than diving in right away and getting in over your head, we highly recommend sitting down with your family to come up with an agreed upon vision for what you want out of your yard. After that is completed, the hard work can begin! Here are a few general tips to keep in mind when beginning your landscaping journey.
Hardscape First
Hardscaping refers to the man-made features used in landscape architecture such as sidewalks, driveways, decks, fencing etc. These projects typically require construction, so you may want to consider hiring someone to come in and complete this part if it is beyond your realm of expertise. We suggest you do this part first as the rest of your yard may see some slight damage throughout the process (i.e. soil compression).
Prep the Space
Before you can even think about what plants you want to have in your yard, you need to properly prepare the space ahead of time. If you plan on digging out an area for a flower bed or garden, try using a garden hose to lay out the shape of your bed lines and then spray paint to mark the lines. Use an edger to carve out the shape of the bed in the grass and be sure remove all the grass roots to avoid grass and weeds growing back into the bed. Combine your soil with organic matter such as mushroom compost, peat moss or leaf mold to encourage root growth in your new plants and allow them to become established quicker.
Pick your Plants
When deciding on what greenery to plant in your yard, it is important to consider the amount of time that you are willing to commit in the future to regular maintenance. If you have a green thumb, then it may be worth investing in some unique plants that would distinguish your home from your neighbours. Alternatively, if you want a yard that takes care of itself and requires little upkeep then there is nothing wrong with sticking to the basics. Another important factor to consider is the natural landscape of your home - spend a few weeks determining how much sun your backyard gets opposed to your front yard and go from there. Finally, aim to plant low growing shrubs or groundcover near the windows and porches of your homes, and larger trees and bushes near the corners of your home to frame it.
Determine Your Backyard Wants & Needs
The backyard is the toughest part to plan out for families as it typically requires a compromise on the main features. While most adults desire a large deck and a comfortable seating area, many children prefer a playset and room to run around. There are ways to incorporate both, however it is easier done if planned correctly from the beginning. Arrange a playset in the corner of the yard where it is easily visible from the deck or kitchen so you can keep an eye on the children. Plan your deck size to be large enough to host guests, but small enough to not take away from usable grassy area. Store unsightly items such as garbage cans or firewood on the side of the house where it is out of site.
Get Creative
Your backyard should be a space you look forward to spending time in, so don't be afraid to personalize it and make it your own. For some backyard inspiration, click here to check out some fun landscaping ideas.
Have a great weekend,
Cedarglen Marketing
Sources:
https://www.diynetwork.com/how-to/outdoors/landscaping/the-essential-steps-to-landscape-design-pictures