Discover All That the New Community of Belmont Has to Offer Calgary
Considered one of Calgary's most connected communities, Belmont offers easy access and features great amenities, meaning your home can extend well beyond your front door. As Belmont continues to grow, so will the nearby amenities and multiple other benefits that come with living there. Explore just a few of the top reasons why so many families are starting to call Belmont home.
When it comes to connection within Calgary, Belmont is ideally surrounded by 194th Avenue, Sheriff King Street, and 210th Avenue. Residents have easy access to connect onto Stoney Trail or Macleod Trail, but is situated far enough away to avoid busy highway sounds and relax quietly at home. In addition, future plans for Belmont include a new LRT station that will be within 500 metres of the community – however in the meantime Belmont is currently only a 5-minute drive away from the Somerset-Bridlewood LRT station.
As a growing community, Belmont will soon be home to two future school sites, playing fields, parks, pathways, and more. Belmont's proximity to established communities like Silverado and Walden will also allow its residents to reap the benefits of a new home without having to wait years for shopping and retail spaces to be developed. From grocery stores to golf courses, this community is within reach of amenities that support day-to-day living and create lasting family memories.
GROCERY STORES
With a variety of stores to choose from, residents can pick their favourite option to support their everyday lifestyle.
MOUNDS OF FUN PLAYGROUND
This state-of-the-art playground is one of Calgary's favourite playgrounds for kids of all ages. Designed to engage with kids, the Mounds of Fun playground has multiple sections with different sensory levels for a variety of ages.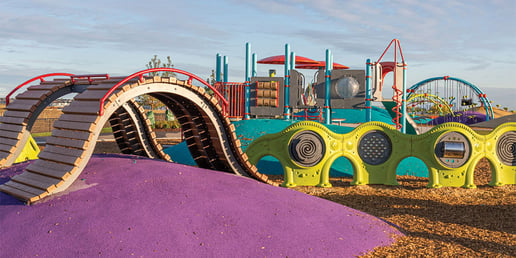 FISH CREEK PARK
The second largest urban park in Canada, Fish Creek Park offers Calgarians a variety of trails, pathways, day use areas, and green space to use year-round. With more than 100km of paved and unpaved trails, the park is a popular location for hiking and biking, as well as picnics, fishing, and wildlife watching.
SIROCCO GOLF CLUB
Recognized as one of the top golf courses in the city, Sirocco Golf Club offers a public links course that runs through the Pine Creek valley.
SPRUCE MEADOWS
Spruce Meadows is a multi-purpose sport and entertainment facility in Calgary that is most well-known for its equestrian show jumping complex. When there aren't equestrian shows taking place, you can find a variety of other sporting events, festivals, markets and more.
CARDEL REC SOUTH
Only a short 6 minute drive away, this recreation centre is located in the Shawnessy Towne Centre. The facility includes a Catholic senior high school, Calgary Public Library, four ice arenas, gymnasium, Shawnessy YMCA, and more. Having all of these amenities under one roof allows the convenience of having to stop at only one location for all your recreational and educational needs.
There are so many incredible reasons to make Belmont your new home, how can you pass up on such an amazing opportunity? With only a few lots left to live in this amazing SW Calgary community, these homes won't last long. Visit our Belmont showhomes for more information or watch the following video to hear why Ashley loves Belmont.
Click HERE to register to receive our Belmont newsletter and stay up to date on all the latest community developments.
Ashley Falsetti, Area Sales Manager
Ashley.Falsetti@cedarglenhomes.com
Book a Meeting