Find Out Which Home Elevation Style Suits You Best
When beginning your homebuilding journey, you will likely hear the term "home elevation" or "front elevation" come up. An elevation refers to the exterior look and style of a home. While there are several different styles of elevations to choose from, at Cedarglen Homes we primarily build 4 specific styles based on what is commonly found in the Calgary housing market. These home elevation styles include Craftsman, Contemporary, Prairie, and Farmhouse. Most of our models are able to be built with any of these styles, so we suggest taking some time to determine what style calls out to you most.
CRAFTSMAN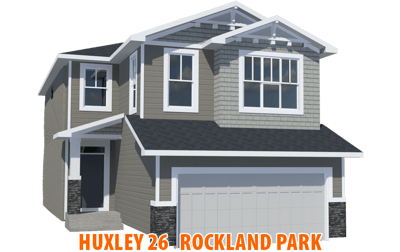 This elevation style was inspired by the British Arts and Crafts movement, with the goal of creating a cozy, comfortable home that has trim work and detail. Craftsman homes are characterized by a low pitched, gabled roof with a wide eave overhang. Many of these homes may also have a front porch, exposed roof rafters, and decorative beams or braces under the gables. These homes typically use natural materials such as stone or wood which are combined with siding, Hardie board, or shakes.
CONTEMPORARY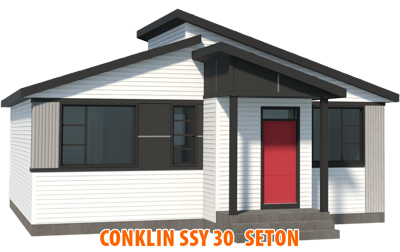 Contemporary homes are a very modern style that emphasizes simplicity through clean lines with flat and gabled roofs, large windows with no decorative exterior trim, and may come with a large eave overhang. These homes showcase high quality through a disciplined design, which has increasingly become popular with Calgary's modern family. Contemporary homes typically use mixed materials such as stone, stucco, brick, wood, and siding for their exterior designs.
PRAIRIE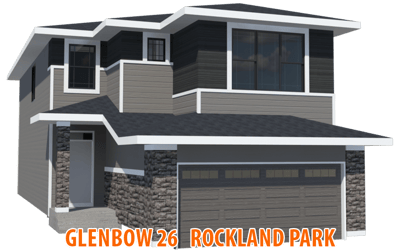 Invented by the legendary architect Frank Lloyd Wright, these homes aim to create a practical yet beautiful space that blends in with the flat prairie landscape. Prairie homes are simple yet unique due to their square design but maintain their originality with different heights and depths. Inspired by the Arts and Crafts design, these homes are characterized by long and flat roofs, multiple windows, and horizontal lines. Houses designed with this elevation are typically built using stone, wood, and brick materials.
FARMHOUSE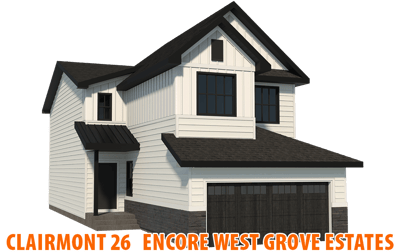 This elevation style arose from popular rural farm designs and is characterized by sloped roofs with prominent front facing gables. Farmhouse homes are well known for being warm and comfortable with exposed wood beams, horizontal siding, and symmetrical windows. These features are kept clean and crisp using natural materials such as stone, wood, and brick.
---
Depending on which Calgary community you choose to build your new home in, the available elevations may vary based on the architectural guidelines. Community developers create a set of architectural guidelines that determine what the overall look and feel of the community will be, which will in turn affect what elevations are available in each community. Each builder then takes those guidelines to their team of Architectural Technologists to use when designing their model's elevations. When building your new home in Calgary with Cedarglen Homes, you will work closely with your Area Sales Manager to select what elevation you would like to have on your home as they are well versed on what can be built in their respective community.