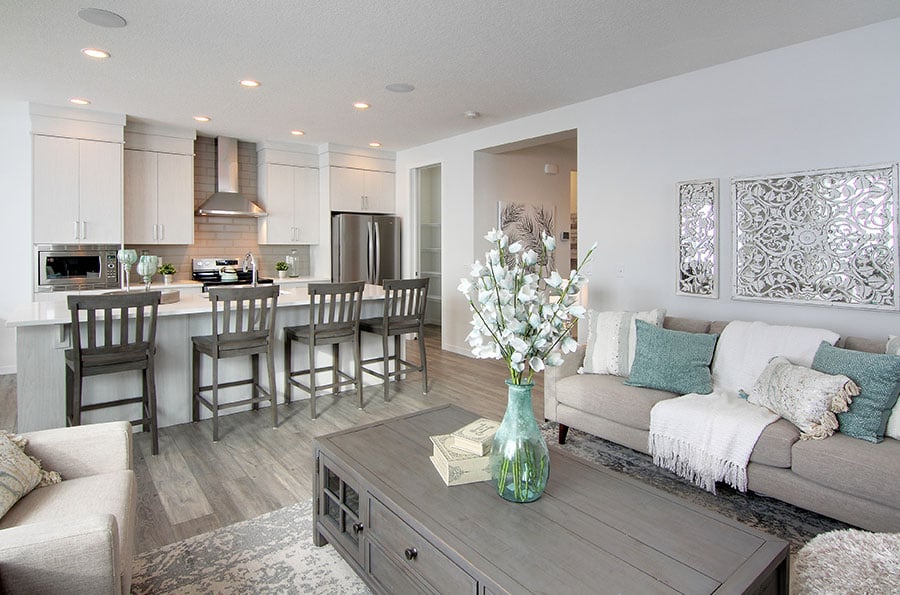 It was not long ago that we introduced you to our newest promotional model, the Bellevue ZLL 24. This home was a definite favourite in the communities of Livingston, Belmont, and Seton due to its functionality and exceptional value. The Bellevue begins with a bright and airy foyer, before welcoming you into the open concept great room, kitchen and nook. Nestled in the kitchen is a substantial walk in pantry and nearby mudroom that is available for you to store away your belongings in style. Moving upstairs you will find a central bonus room, upper floor laundry, a built-in desk area and 3 spacious bedrooms for the family to enjoy. The master bedroom includes a large 4-piece ensuite and attached walk-in closet. Click here to view a virtual tour of this model.
We saw that this home was very well received and decided to offer a larger version of the same model for growing families to enjoy. The Bellevue 26 now boasts an impressive 2,273 square feet and is being offered on 26' lots in a few of our favorite communities. Promotional pricing starts at $536,300 in Livingston, $554,200 in Cranston's Riverstone, $587,000 in The Parks of Harvest Hills and $720,000 in The Rise West Grove Estates. Contact the area sales manager for each community to inquire about making this home your dream home.
Have a great weekend,
Cedarglen Marketing
Reda Sabbah, 1420 Livingston Way NE
(E): Reda.Sabbah@cedarglenhomes.com
(Ph): 403.454.3398
Cindy Drummond, 20 Cranbrook Circle SE.
(E): Cindy.Drummond@cedarglenhomes.com
(Ph): 587.352.3598
Mike Dwyer, 325 Harvest Hills Way NE
(E): Mike.Dwyer@cedarglenhomes.com
(Ph): 587.351.2455
Kimberley Holstein, 110 West Grove Way SW
(E): Kimberley.Holstein@cedarglenhomes.com
(Ph): 587.356.3032