Over the years there has been a shift away from standardized hotels towards short term rental services such as Airbnb. These services allow travelers to 'live as the locals do' and enjoy all the conveniences of staying in a well-maintained home. At Cedarglen Homes, our mission is to 'innovate for better living' and we are consistently looking for new ways we can add more value to our homeowner's lives. Our latest innovation provides homeowners with a pre-designed short-term rental module that can be added to their new home.
According to the City of Calgary website, a 'short term rental is defined as the business of providing temporary accommodation for compensation, in a dwelling unit or portion of a dwelling unit for periods of up to 30 consecutive days.' In Calgary, if a homeowner plans on operating a short-term rental out of their home they must apply for a business license for the property. There are currently two categories of business licenses available:
Tier 1: 1 to 4 rooms offered for rent = $100/property
Tier 2: 5 or more rooms offered for rent = $172 per property plus the cost of a fire inspection of $104 per property.
For the type of short-term rental option that we have created, homeowners would only need to apply for a Tier 1 license. In addition to this webpage, the City of Calgary has also developed a 'Good Host Guide' to provide homeowners with an overview on the regulations and processes for operating a short-term rental.
This brand-new custom module is featured in our newest move-up showhome in Seton – the Parkland SSY 24. Just off the main foyer of the house, you will find a spacious bedroom with its own private ensuite. The main foyer has a doorway connecting to the rest of the home that can be locked when guests are staying in the suite. Renters can easily come and go as they please while the homeowners can maintain their privacy in the rest of the home. In this showhome, our Designers have added a built-in desk area and a murphy bed that can be tucked away to create a more open space.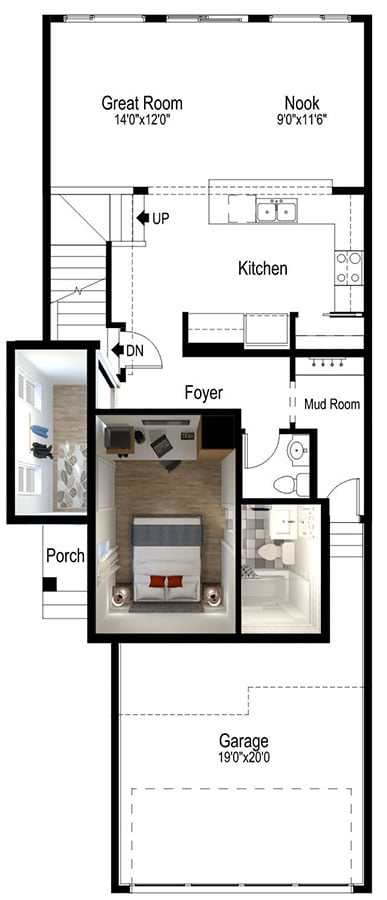 When the suite is not being rented out, homeowners can keep the door to the foyer open and use the space as an extra bedroom or an office. This space would also work great for those who run a business from their house and would like a designated space that is separate from their family life (i.e. hairdresser, lash technician, massage therapist etc.).
Click HERE to the view the virtual tour of this home and see the short term rental module in more detail. Alternatively, we welcome you to stop by and visit this showhome in person at 170 Seton Heath SE. Our showhomes are open Monday to Thursday from 2:00pm to 8:00pm, and Saturday/Sundays from 12:00pm to 5:00pm.
Book an Appointment with our Area Sales Manager Dennis Mullen for more information on how Cedarglen Homes can help you customize your dream home.