How to Choose the Right Home Lot for Your Needs
Building a new home in Calgary is an exciting milestone and while choosing the house itself is important, it is equally as crucial to pay attention to the lot your home will be built on. There are many factors to consider such as the lot location, lot type, the slope of the property, and more. Once you have a better understanding of the type of home you want to build, you can move ahead with determining your lot choice.
---
Lot Locations
Where your home is situated within a community can make a big difference in your day-to-day life. Depending on your preferred mode of transportation, you might want to choose a lot located near the entrance of a subdivision or close to a transit station for quick access in and out of the community. If you have children or are planning to start a family, you may want to choose a lot close to a park, recreational centre, or a future school. Many communities offer green space or water features and provide lots that back directly onto these desired spaces which can extend your backyard even further.
In addition to considering location within the community as it currently is, it is good to be aware of what the developer has in store for the community's future. If it is not yet fully established, it is important to know what the developer has planned for landscaping, amenities, and green space in the area. Ask your Area Sales Manager to confirm the locations for future playgrounds, pathways, and schools, as well as any future plans for retail or infrastructure in the community.
---
Lot Types
Conventional vs. Single Side Yard
When choosing your lot, it is essential to identify the different plot options that are available in the community and the strengths and weaknesses of each one. At Cedarglen Homes, we plot our homes on Conventional lots and Single Side Yard (SSY) lots.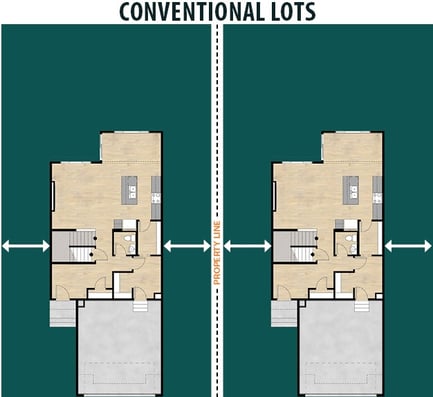 Conventional lots (also known as traditional) have homes built on the centre of the lot with a 4' side yard on each side. This provides homebuyers with more outdoor living space and allows for the home being built to have additional windows if wanted. In comparison, single side yard lots (also known as zero lot lines) have homes built on the edge of the neighbouring property line with one 5' side yard on the other side of the house – this results in a narrower lot. Homes built on these types of lots are limited to having no windows on the side of the house that sits on the property line, however they allow homebuyers to build a large home while saving money on a smaller outdoor yard space.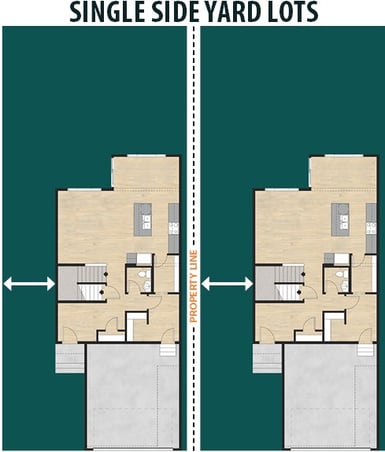 For example, if someone wanted to build our popular Carbon model that is 26' wide, they could build it on a conventional lot and have a large yard and windows on both side of the house. Alternatively, if their budget was tight and they wanted to save some money they could compromise with a smaller yard and less windows and build the same 26' wide house on a single side yard lot.
Corner Lots
A corner lot features a larger yard that opens to the side, with only one single neighbour on the other side of the home. These lots can be a bit more expensive due to the desirability and architectural exterior requirements by the developers. In addition, these lots do result in more maintenance as there is more grass to mow and you would be in charge of clearing the snow on the sidewalk along the side of your house in the winter.
Cul-De-Sac Lots
If you desire a larger property, then cul-de-sacs are a great opportunity to have that big backyard and enclosed design. However, living in Calgary means snowy winters and cul-de-sac layouts can make snow removal more difficult.
Walkout Lots
Lastly, there are walk-out lots which allow for direct access from the basement out to the backyard, therefore providing full-sized windows and doors and plenty of natural light. Walk-out lots require a certain level of slope to the backyard to allow for such to take place, and this often results in a more costly lot selection.
---
Other Elements to Consider
Lot Slope
The slope of a lot has a big impact on the type of home that can be built and the overall price of one's investment. The majority of lots are level, which allows for many different styles of homes to be built. Back-to-front lots have a slight slope to them causing water to flow from the backyard to the street. In comparison, front-to-back lots have water flowing from the street towards the backyard with some sort of drainage system in place such as a small trench. Many front-to-back lots can accommodate a walkout basement which is a great option to provide indoor-outdoor living. Transitional lots feature a variety of slopes and elevations and may require some more complicated landscaping such as retaining walls or multi-level decks. Be sure to ask your Area Sales Manager what type of lot they recommend based on your desired home.
Lot Size
As lots come in different sizes, it is important to check with your Area Sales Manager to see what homes each lot can accommodate. While some lots are long and skinny, others can be wide and shallow. At Cedarglen Homes, many of our models are offered in a variety of sizes so that you can make the most out of the lot you choose.
Sun Exposure
If you are an avid gardener, you may want to consider a south or west facing lot to maximize the amount of sun you will get throughout the day. The sun exposure on your lot can also help reduce heating costs in the winter if you are conscious of keeping your energy bills lower. If lawn maintenance is not at the top of your priority list, then a north facing lot with less sunshine may suit you well, with the additional benefit of keeping you cooler during the hot summer days.
Utilities
When looking at the detailed phase maps for a community, you will be able to determine which lots will have additional utilities placed on them. Some things to consider would include lamp posts, fire hydrants, transformers, internet/cable pedestals, or even community entrance signs.
---
There is no right or wrong answer when it comes to choosing the right lot. With so many things to consider, it is important to have open communication with your Area Sales Manager to make sure that you have a clear understanding of the community before you make any decisions. Visit any of our Calgary communities and meet with an Area Sales Manager to help gather information on which lot will best match with the model you have in mind. The more information you gather, the more confidence you will have in making the right lot choice for you and your future home.