Benefits of Buying a Cedarglen Homes Showhome
Our Design Consultants do such a phenomenal job at designing our showhomes that we often have homebuyers ask if they can just purchase one of our Calgary showhomes outright. At Cedarglen Homes, we are pleased to offer our 'Showhome Leaseback Program' in which homebuyers will purchase a showhome and then proceed to lease it back to us while we continue to operate out of it. This unique opportunity comes with a variety of benefits that should be considered.
---
Have Your Monthly Mortgage Payments Covered
Cedarglen Homes will pay your mortgage during the leasing period meaning you can have your monthly payments covered while the showhome is still operational.
Guaranteed Reliable Tenant
Enjoy the benefits of an investment property without the stress of having to find reliable tenants. You can feel comfortable knowing that Cedarglen Homes is taking great care of your home while it is in our possession.
Extra Time to Sell Your Home
Depending on how long the showhome will continue to remain open, you will have plenty of time to prepare your current home to sell prior to moving in.
Professionally Designed Home
Our showhomes are designed with state-of-the-art finishes and impressive features that are guaranteed to impress. Relieve yourself of the stress that comes with designing a new home from scratch and move into something you know you love.
Upgraded Features at a Great Price
Our showhomes often come equipped with some great upgrades including things like air conditioning, window coverings, professional landscaping and more.
Alberta New Home Warranty
Every Cedarglen Homes is automatically enrolled in the Alberta New Home Warranty Program. This warranty takes effect the day that we open our showhomes, but will continue on into your ownership period as well.
Opportunity to Buy the Home Furnished
If you walked into the showhome and not only fell in love with the floorplan, but the staging and furnishings as well, then you are in luck! Ask our sales team about the opportunity to purchase the showhomes fully furnished.
---
The benefits are clear, so how does it work? Once the showhome parade closes, you get to move in immediately without having to wait. In the meantime, while the showhomes are operational we lease it from you, and you will receive a 4.5% return on the purchase price (excluding GST) per month. This payment to you helps to cover the cost of your monthly mortgage payments.
Here is an example of the breakdown: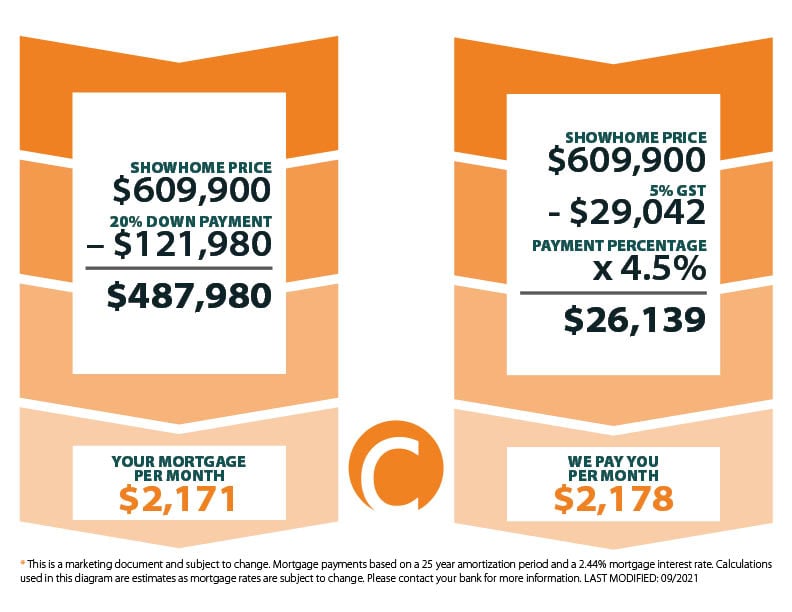 The values you earn will vary depending on the community and the price of the showhome. Please contact the Area Sales Manager for full details.
This is a marketing document and subject to change. Mortgage payments based on a 25 year amortization period and a 2.44% mortgage interest rate. Calculations used in this diagram are estimates as mortgage rates are subject to change. Please contact your bank for more information. LAST MODIFIED: 09/2021